Meet Patrick O'Brien, RMT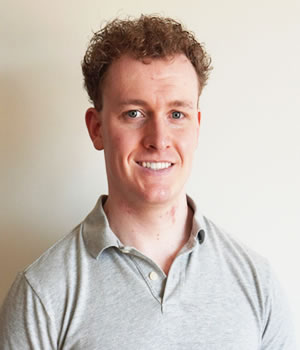 Patrick O'Brien is a Registered Massage Therapist who has also achieved certified credentials as a Medical Acupuncture Provider as well as, a Neurofunctional Sports Performance Practitioner. He is also a Certified Personal Trainer. He completed his studies at McMaster University, Brock University and Georgian College.
Since 2020, Patrick has experience working with a wide range of clients, from young athletes to motor vehicle accidents and complex neurological impairments. With a function-based approach to pain relief, Patrick uses Massage, Acupuncture, Cupping, Taping and Remedial Exercise to promote healing and encourage structural alignment for effective, long-lasting results that reduce pain, increase mobility, and improve functional performance.
Active Lifestyle
Patrick has always lived an active and competitive lifestyle whether it be wrestling with Brock University, competitive gymnastics and most recently, exploring North America's mountains, rock climbing. It is this drive to never stop that pushed him to pursue his formal education with McMaster and Georgian as a way to build a career to help others experience those same joys of living.
In his leisure time, Patrick has played Soccer, raced at Mosport, competed briefly in Power Lifting, and continues to enjoy Camping, Portaging, and Slackline. He even considers himself as a bit of a Chess nerd. Patrick's personality and skill set is an exciting and valuable addition to our BCHSSC team.
---