Contact Barrie Chiropractic
We'd love to hear from you! Call us (705) 792-6690

APPOINTMENTS
ONLINE BOOKING UPDATE
Online booking of in-office appointments for Chiropractic visits is now available for  Dr. Lorne Papernick, Dr. Darryl Bossence and Patrick O'Brien. Online appointment availability is, however, limited compared to what may be available by arrangements with our Staff.
We invite you to enjoy our online booking portal but ask that you contact us by phone or email to access our full availability, or if you are having difficulties with the portal.
Thank-you for your confidence in us and for being part of our Practice as we expand the use of technology in its management.
Online booking for Naturopathy appointments continues to be available for your convenience.
CONTACT
Barrie Chiropractic
604 – 55 Cedar Pointe Dr
Barrie, ON L4N 5R7
T: (705) 792-6690
F: (705) 792-5061
Barrie Hours
M
7:30 – 12:00
3:00 – 6:30
W
9:00 – 11:30
2:00 – 6:30
T
12:00 – 1:30
3:00 – 5:00
ROAD CLOSURES NOTICE
Project Updates – October 5, 2023
Cedar Pointe Drive and Dunlop Street access at the intersection has been restored.
The portable temporary traffic signal on Hart drive will be removed this week and one lane in each direction has been restored.
The contractor will start working 24 hours per day, Monday to Friday, from Tuesday, October 10 to Wednesday, November 1. They will have multiple crews per shift, so both the sanitary installation and the restoration of the roadway will occur.
Works within the Cedar Pointe Plaza will start on the evening shifts (7pm-7am) of October 10 to install the sanitary works within the plaza (55 to 75 Cedar Pointe Plaza). Some parking spots will be blocked for short durations while the work is occurring. This project is exempt from the Noise By-law per Schedule 2, Permanent Exemptions, Section 3: 'The operations of equipment in conjunction with the City projects or reconstruction projects, general maintenance and emergency maintenance projects."
The contractor will close the Edgehill Drive and Cedar Pointe Drive intersection October 16 to December 15.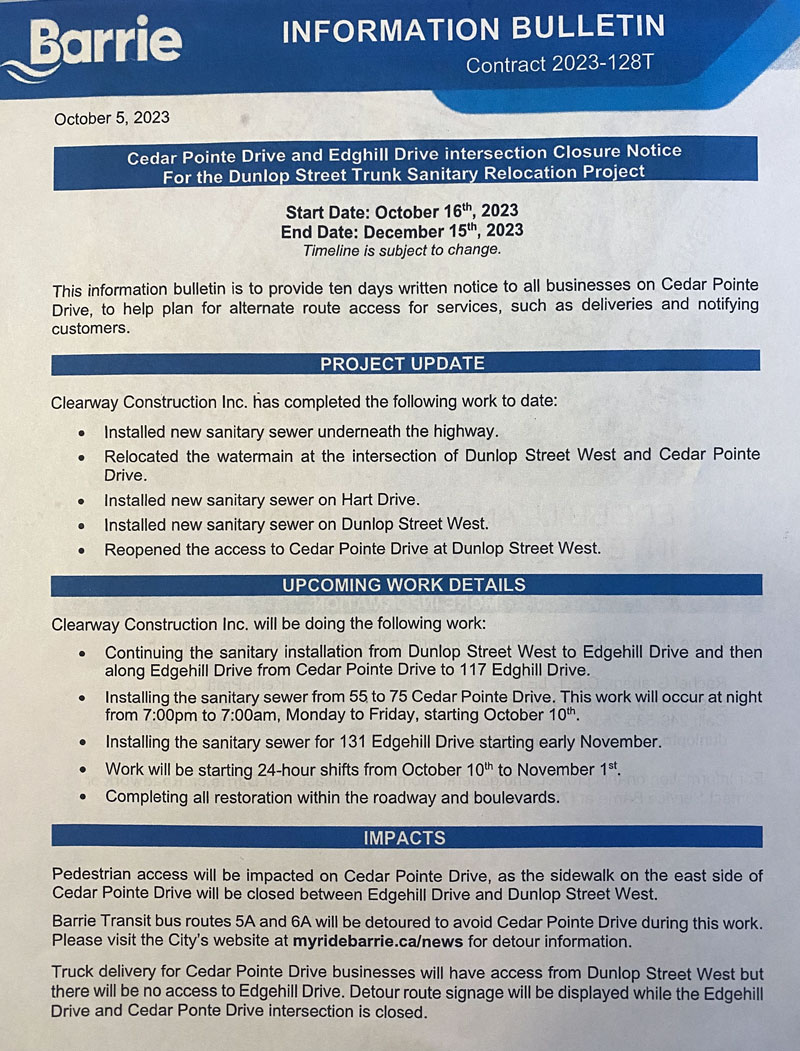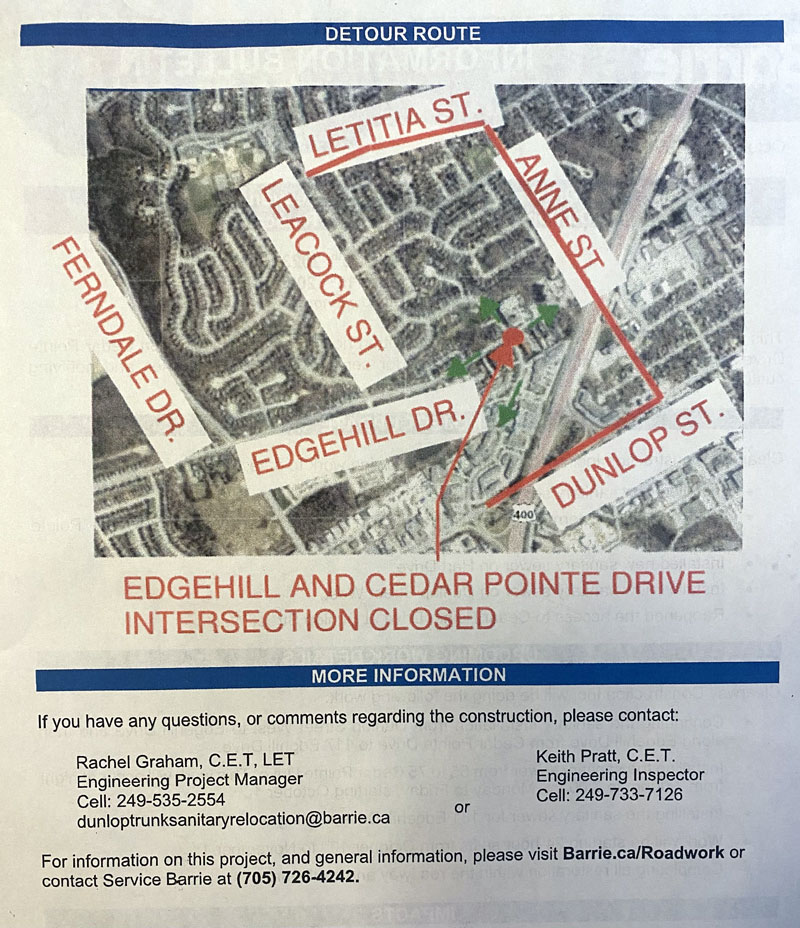 FIND US
We are located in the Cedar Pointe Business plaza, right next to 55 Special Sports Bar. In case you're unfamiliar with the area, it's just off Highway 400 at the Dunlop Street exit.